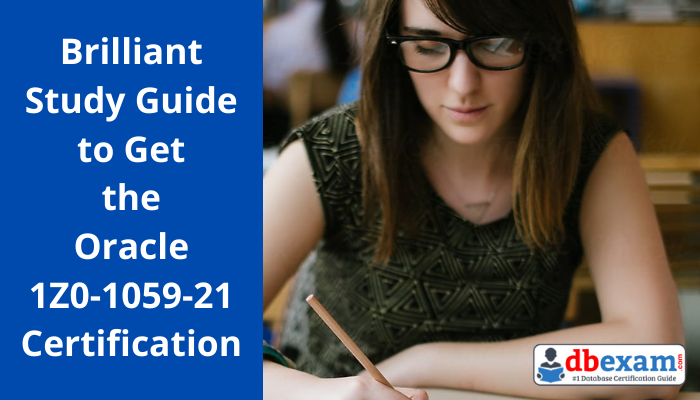 Are you interested in using Oracle Financials Cloud in your career? The Oracle 1Z0-1059-21 exam could help you carve the right career path. Here is the beneficial study guide and practice test to make your certification journey easy.
Overview of the 1Z0-1059-21 Certification:
Passing the 1Z0-1059-21 exam Oracle Revenue Management Cloud 2021 Certified Implementation Specialist certification. A candidate proves the skills and knowledge needed to implement Enterprise Resource Planning (ERP) and Financials Cloud solutions for Revenue Management.
What Do the Candidates Learn through the 1Z0-1059-21 Certification?
Aspirants who earn the 1Z0-1059-21 certification can configure standalone pricing, Configure and implement Revenue Management, manage revenue contracts, and learn about reporting scopes.
How to Get Ready for the 1Z0-1059-21 Certification Exam?
Confirm the Exam Date with Registration:
Exam preparations are challenging, and it becomes even more challenging if the examination is of a specialist level. Many aspirants plan to prepare for the 1Z0-1059-21 exam, but their current job role or time frame holds them back from getting ready for the exam. As a result, many aspirants plan to take the exam, but they give up mid-way. But there is a solution to improve this situation. If a candidate registers and gets the exam date at the beginning, his approach becomes more serious about getting ready.
Plan A Schedule to Cover the 1Z0-1059-21 Syllabus Topics Wisely:
Don't forget to make a schedule if you want to cover the 1Z0-1059-21 syllabus in a hassle-free manner. Making a schedule means you are aware of the topics you would study during your study hours. Studying for longer hours is not the key to success. But, if you can productively utilize the study hours, that could manifest success easily. Some candidates get confused about what they want to study during the study hours. An aspirant with a schedule can make it easier, while others fail to cover the syllabus topics due to poor management.
Make Notes from the 1Z0-1059-21 Syllabus:
Notes making helps a candidate in many ways. First of all, it boosts the memory power of a candidate and helps in making handy revision materials. Therefore, put special emphasis on making notes. Don't rush during the process of notes making. Work on two to three topics daily and make important notes out of them.
Rely Heavily on Group Discussions:
Group discussions have become easier these days due to virtual platforms. Find the specific exam-related groups on different social media and raise your questions or queries within the group. Knowledge always multiplies if you share it with others, therefore stay active in the exam-related group and make the most out of it.
Go through the Self-Assessment Phase with 1Z0-1059-21 Practice Test:
Only studying does not help every time; a candidate must keep track of his preparation regularly. The simplest yet effective way to self-assessment is taking the 1Z0-1059-21 practice exams. Self-assessment helps a candidate to understand his preparation level. Choosing the correct material could be challenging for some candidates, but they can easily figure out reliable material through google search, mock test quality, and sample question materials. Aspirants should take practicing online as a learning tool and should not be bothered about scoring higher in the initial attempts.
Learn More about Oracle Revenue Management Cloud:
Oracle revenue management cloud is a solution that creates new revenue possibilities and deepens customer trust with a centralized pricing and billing platform. The user can generate billing, offer his customers the bill details they need, and use complete analytics to make known best pricing decisions.
Here Are the Benefits of Using Oracle Revenue Management Cloud:
The solution helps to make better pricing decisions and implement them to your customers' bills.
Have Solutions for Merchant Functions:
Improve the price execution and add flexibility to capital markets billing. Provide exchange customers the transparency they need with an audit trail of changes made to price lists and transactions in one single system.
Get the Best Pricing:
Make flexible pricing (stepped, tiered, or volume-based) and move beyond trading into new areas such as clearing and doing settlements. Earn more informed pricing decisions with analytics that integrate into customer insights, pricing simulations, deal structures. Make aggregated bills that have charges across all of the product lines.
Make Bank Billing Simpler:
Calculate insurance premiums and fees and manage several lines of business on a single billing platform to improve both efficiency and customer satisfaction. Have changes faster by configuring out-of-the-box pricing rules.
Health Insurance Revenue Management Is Simpler Now:
Generate and customize merchant invoicing and billing methods.
Enforce and define several fee structures for merchants and card issuers through a single system.
Bottom Line:
You might think what the value of getting the Oracle 1Z0-1059-21 certification is? The reason is simple: being an OCS certified aspirant, you earn the knowledge to utilize Oracle Financials Cloud in a better manner, which helps the organization grow more.