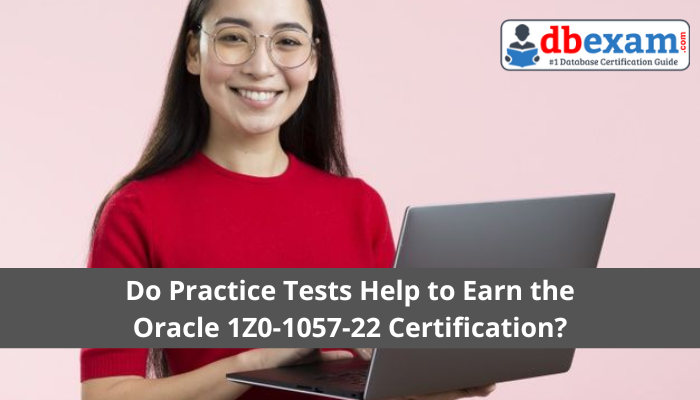 You must always take a chance with 1Z0-1057-22 practice tests if you want to earn the Oracle Project Management Cloud 2022 Implementation Professional certification. Get an overview of the certification through this blog.
What Is the Oracle 1Z0-1057-22 Certification All About?
1Z0-1057-22, or the Oracle Project Management Cloud 2022 Certified Implementation Professional certification, is about proving your expertise in implementing Oracle Project Management Cloud solutions.
What Topics Do You Learn through the Certification Preparation?
Candidates who earn the 1Z0-1057-22 certification makes the candidates familiar with Common Project Configuration, Project Foundation, Project Control, Project Costing, Project Billing, Project Performance Reporting, Project Management, Program Management, and Project resource management.
What Is the 1Z0-1057-22 Exam Structure?
The 1Z0-1057-22 exam is a multiple-choice type exam and comprises 55 questions. A candidate must obtain a 60% mark to pass the exam and get his Oracle Project Management Cloud 2022 Certified Implementation Professional (OCP) certification.
How to Prepare for the 1Z0-1057-22 Exam?
Have A Proper Study Plan:
As you appear for the OCP-level 1Z0-1057-22 exam, it needs a proper study plan, which helps in covering the syllabus domains with ease. You must be very organized to cover the syllabus domains, and making a study schedule could help you.
Make Your Plans Ready to Learn the Syllabus Topics:
A candidate must chalk out the syllabus completion plan at the beginning of their preparation. The 1Z0-1045-22 study chart must mention the particular topics you want to study, your study time, and every minute detail regarding the exam. If you plan everything, preparation for the exam gets easier.
Learn the 1Z0-1057-22 Syllabus from the Core:
Detailed analysis of the syllabus is important if you want to grasp the syllabus topics from the core. As there is no percentage distribution in the Oracle 1Z0-1057-22 syllabus pattern, it becomes difficult for you to cover one area and leave the rest. Chalk out the hours when you feel the most productive for study. It could be early in the morning or late at night, whichever time suits devote two to three hours from that.
Make Notes to Memorize the Topics and Revise Quickly:
Making notes are really helpful during the 1Z0-1057-22 exam preparation. As the candidate faces the exam in a multiple-choice pattern, he can earn benefits by remembering the topic details. The aspirants might learn well about the syllabus topics, but remembering all of them till the exam day is a challenge. The practice of writing daily while studying and notes making helps a candidate in the long run. Writing practice is one of the best methods of memorizing topics.
Stay Motivated to Pass the 1Z0-1057-22 Exam:
You must believe in yourself to pass the exam with ease. If you are stressed out about taking the 1Z0-1057-22 exam, it could lead to poor performance and failure. On the other hand, your confidence, constant motivation, and positive thinking boost your learning and earns you success.
Go with 1Z0-1057-22 Practice Tests:
Many aspirants study well, work hard, and follow dumps, but they fail difficulty while taking the 1Z0-1057-22 exam. Therefore, make your preparation base stronger with practice tests. Earn the real exam experience with 1Z0-1057-22 practice tests and become a pro regarding time management. You will earn valuable insights regarding your preparation with practice tests, and the chance of improving gets higher with the analysis. But, 1Z0-1057-22 dumps do not provide the self-assessment scope. Therefore, go with practice tests for a better score.
Overview of Oracle Project Financials Cloud:
Oracle Project Financials Cloud solution helps project-centric businesses to get informed and in control with modern, enterprise-grade solutions. These solutions help and deliver complete and integrated project financial management. The user gets simplified budgeting and forecasting, project planning, and standardized cost capture across the enterprise. They can streamline the project financial planning processes and cut administrative effort with faster project costing.
How Does Oracle Project Management Financials Cloud Benefits Businesses?
Faster and Accurate Project Plan Development:
The core of any project is the project plan, which determines how to execute it. With Oracle, project managers and administrators can develop the project plan fast using drag and drop options to create and move tasks within the plan. Users can use multiple resources for different tasks in a single action or use mass editing possibilities, including date cascade functions, and quickly apply the same changes to a group of tasks. Integration with Microsoft Project allows users to create projects, maintain project plans, schedule resources and collect progress. The easy-to-use integration offers a visual indicator keeping the user informed of the progress of the synchronization method, and any issues encountered are clearly identified.
Project Budgeting and Forecasting Is Simpler than Ever:
Getting the project budget and forecasting has never been simpler or clearer. Budgets and forecasts can be created quickly and easily from the project plan or from existing financial plans.
Making mass changes is possible across a selected set of tasks and resources. Tasks help to edit budgets by focusing on resources and by using a curve to spread resource load assignments. Budget data entries are also streamlined with personalized layouts, including the option to budget periodically.
Bottom Line:
Oracle Project Financials Cloud offers highly automated planning and financial control processes. The solution focuses on ease of use and guided activities while offering full-function capabilities. Getting the 1Z0-1057-22 certification thus offers the scope to use Oracle Project Management Cloud in your career and make a strong career path. Therefore, study hard and grab the certification.