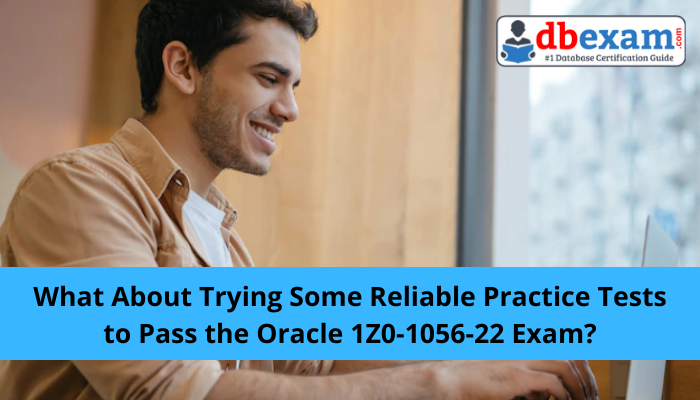 Learn more about the Oracle 1Z0-1056-22 certification preparation today. Get an overview of the certification, Oracle Financial Cloud, and the reliable practice tests to pass the exam.
Who Is A 1Z0-1056-22 Certified Professional?
The 1Z0-1056-22 Oracle Financials Cloud Receivables 2022 Certified Implementation Professional is an individual who proves his skills and knowledge required to Implement Oracle Cloud Financials Receivables.
What Do You Learn through the 1Z0-1056-22 Certification Preparation?
Candidates who earn the 1Z0-1056-22 certification can Manage Customer Billing, Configure Receivables, Process Customer Payments, Manage Bills, and Report and Configure Advanced Collections.
What Topics Are Covered Under the 1Z0-1056-22 Exam?
The 1Z0-1056-22 exam covers the following topics-
Configuring and Using Advanced Collections

Reporting for Account Receivables & Advanced Collections

Bill Management

Processing Customer Payments

Managing Customer Billing

Configuring Customer Payments

Configuring Customer Billing

Configuring Common Receivables
Study Guide to Pass the 1Z0-1056-22 Exam:
Register and Explore the Syllabus Topics:
Registration proves your seriousness towards taking the 1Z0-1056-22 exam. Therefore, get registered and learn about the exam date at the beginning of your preparation. Once you know the date, you can calculate your exact time and study accordingly.
Get Information from the 1Z0-1056-22 official Site:
Visiting the official page is another big step to gathering information about the valuable online study materials, training and exam structure, etc. This might seem a very simple task, but knowing your exam well gives you the power to manage everything well.
Set A Study Space and Devote Quality Time:
Try to choose a study corner or find a suitable place where you can focus easily and devotedly. If you fix this place, you can keep all the necessary things at one place. Have a study chart and be sure about the 1Z0-1056-22 topics you want to cover on a particular day. For better learning, you must take small steps and learn two to three topics daily. A habit of writing is equally helpful. It boosts the memorization power, and the notes work well during revision.
Take Enough Time to Get Ready:
Do not forget that you are preparing for a professional-level certification, so though you possess some knowledge, you must work on the complete syllabus. Taking the time of two to three months can help you get ready for the exam. Devote two to three hours from your productive time in the exam preparation and focus more time on the lengthier topics. For easy success, you must always cover the entire syllabus.
Join the Oracle 1Z0-1056-22 Training:
You can't put the full effort into theoretical studying only. As a professional, you must be strong regarding theoretical as well as practical things. Therefore, learn from one of the following training-
Oracle Financials Cloud: Receivables 2022 Certified Implementation Professional

Oracle Financials Cloud Learning Subscription
Training is a scope to learn directly from the experts and boost your skills. You can choose the self-paced or instructor-led training according to your convenience.
Make Your Preparation Stronger with Reliable 1Z0-1056-22 Practice Tests:
1Z0-1056-22 exam preparation is all about getting stronger with the syllabus topics. Practice tests are great resources to understand more about your preparation level. You will get valuable insights while practicing regularly.
While opting between dumps and practice tests, many studies proved that 1Z0-1056-22 practice tests are undoubtedly better preparation sources. Once you proceed with practice tests, you get the scope to experience the real exam structure and evaluate yourself with ease. But dumps are read-only materials, and you miss out on the assessment process. Therefore, stick to practice tests for a better result in the exam.
What Is Oracle Receivables?
Oracle Receivables offers integrated functionality to perform day-to-day accounts receivable operations. Receivables functionality is managed from the overview work areas like Receivables Balances, Billing, Revenue Management, and Credit Management.
All work areas offer access to general ledger account activities, including creating accounting, creating manual journal entries, and reviewing journal entries.
Overview of Oracle Financial Cloud:
Oracle Fusion Cloud Financials is a worldwide financial platform that connects and generates financial management processes. The processes include payables, receivables, fixed assets, expenses, and reporting for a clear view of your total financial health.
The solution helps your finance team better data to increase forecasting accuracy, shorten reporting cycles, simplify decision-making, and better manage risk and compliance.
What Are the Benefits of Using Oracle Financial Cloud?
Have A Strong Foundation for Accounting:
Create a strong foundation for financial operations, corporate accounting, and financial reporting with the enterprise accounting and finance platform.
Harmonize Accounting Data:
Harmonize accounting from transactional and disparate ERP systems. Make consistent, standardized accounting for disparate ERP systems using an enterprise-wide chart of accounts.
Have A Single Source of Truth:
Have a single source of truth for managing your systems.
Adaptable Centralized Accounting:
Quickly work with centralized accounting rules as company policies evolve, and new accounting standards are in work.
Offer Deep Insights:
Provide deep insight into operational results by analyzing financial information from many sources, including ledgers, sub-ledgers, and supporting references.
Enjoy Powerful Accounting Engine:
Handle high transaction volumes with a centralized and powerful accounting engine that offers unmatched processing speed.
Bottom Line
Oracle Financials Cloud provides you with the knowledge to deal with financial issues better. Having a certification in the same field proves your skills to potential employers and creates the path for a better future. Therefore, grab the 1Z0-1056-22 certification and use your professional-level skills.