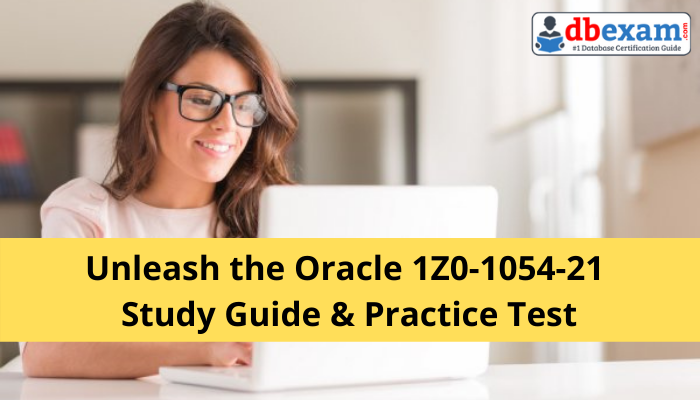 Passing the Oracle 1Z0-1054-21 exam is easy if you have the correct study guide and practice test materials within your reach. Learn more about cracking the 1Z0-1054-21 exam on the first attempt.
Who Is an Oracle 1Z0-1054-21 Certified Specialist?
A 1Z0-1054-21, Oracle Fusion Cloud Financials: General Ledger 2021 Certified Implementation Specialist is an individual who demonstrated the knowledge and skills needed to implement Oracle Cloud Financials.
Candidates who earn the 1Z0-1054-21 certification can Configure Enterprise and Financial Reporting Structures, Configure Ledgers, Journal Processing, Configure and Process Intercompany, Configure Period Close and Financial Reporting and Budgetary Control and Encumbrance Accounting.
Details of the 1Z0-1054-21 Exam:
The Oracle Financials Cloud General Ledger 2021 Implementation Essentials exam is 90 minutes long multiple-choice type exam and asks 55 questions. A candidate needs to get a 60% mark to pass the exam.
How to Get ready for the 1Z0-1054-21 Exam?
Register First:
Give importance to registration. If you register and then start preparing, the pace of preparation is undoubtedly good, as your money is invested. Register early and chalk out the study plan.
Get Ready with A 1Z0-1054-21 Study Plan:
Every small action involves a plan, therefore making a plan for exam preparation is highly important. We, all, are aware of color therapy, so make out your study routine in a bright color and use other colors for different actions. Hang the plan at a place where you can see it every morning you wake up. Mention specific topics for each day and set a particular time to study.
If you have only two hours to study, that is also okay, but productively use the limited hours for optimum success.
Cover the 1Z0-1054-21 Syllabus Topics from Core:
Your key to success in the 1Z0-1054-21 exam is highly dependent on learning the syllabus topics from the core. Oracle does not mention the percentage of the topics, but you can devote more time to lengthy topics during preparation. Think of the learning process as long term, do not study to pass the exam only. Learn from the core so that you can apply the knowledge practically in future projects.
Learn from Oracle 1Z0-1054-21 Training:
Oracle training is beneficial to earn your 1Z0-1054-21 certification. Training means you get a chance to learn from the experts directly and enhance your knowledge. Avail the training and gain practical knowledge.
Practice More to Become Confident:
1Z0-1054-21 practice tests are a confidence booster. A candidate may be highly prepared with the exam objectives, but still, he could feel challenged if he does not practice and rush to take the exam directly. Taking the multiple-choice exam means remembering each detail of the syllabus and applying them during the exam. All exams are time-based, which means you need to take the exam within a limited time, which is possible if you practice continuously. Many candidates face the time challenge as they skip the online practice part. Therefore, enroll for practice tests and gain valuable insights into your preparation if you want to score well in the actual exam.
What Is Oracle Financials Cloud?
Oracle Financials Cloud is a complete global solution designed for organizations of every size and industry. It helps to deliver decisive insights into your organization's financial position and profitability.
What Are the Benefits of Using Oracle Financials Cloud?
A candidate can use Oracle Fusion Cloud Financials to help fulfill your finance team's and company's goals.
Enterprise-wide Accounting Solution:
Make a strong foundation for corporate accounting, financial processes, and financial reporting with this enterprise accounting and finance platform.
Harmonize Accounting Data:
Harmonize accounting from disparate transactional systems and ERP. Have consistent, standardized accounting for disparate ERP systems using an enterprise-wide account or chart.
Get Trusted Financial Information:
Make a single source of financial truth that your corporate accounting and FP&A teams can rely on.
Adaptable Centralized Accounting:
Quickly adapt centralized accounting rules as organization policies evolve, and new accounting standards take effect.
Get Improved Financial Business Partnering:
Offer deep insight into operational results by checking financial information from many sources, including ledgers, sub-ledgers, and supporting documents.
Powerful Accounting Engine:
Deal with high transaction volumes with a powerful and centralized accounting engine that provides unmatched processing speed.
Bottom Line:
With Oracle ERP Cloud Financials, a user can ensure that accurate data is recorded in the general ledger with standardized methods and centralized financial architecture. A 1Z0-1054-21 certified candidate can empower users to quickly find and resolve issues with a modern user interface and simplify journals, reconciliations, and consolidations with automated processes. That means a certified, knowledgeable candidate helps in the company's growth immensely. So, hurry up and grab your certification.