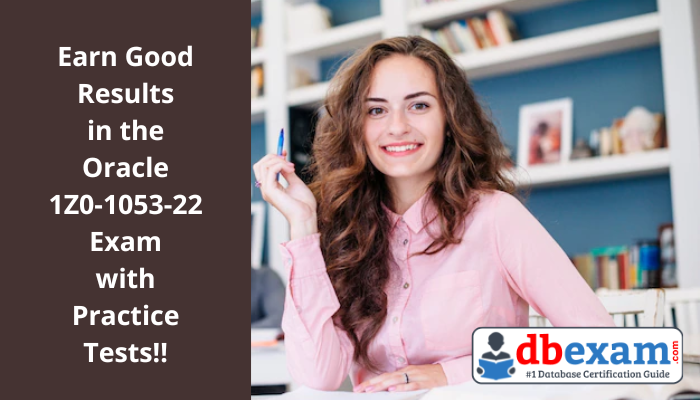 Have you tried the expert-designed premium 1Z0-1053-22 practice tests? If not, try out the valuable study materials for scoring well and becoming Oracle Procurement Cloud 2022 Implementation Professional in no time.
1Z0-1053-22, or the Oracle Benefits Cloud 2022 Certified Implementation Professional, demonstrates the knowledge and skills required to implement and configure Oracle HCM Cloud Benefits Service solutions. Individuals who earn the 1Z0-1053-22 certification can configure and administer Benefits, set up benefits extracts, and extract and transmit data to plan carriers.
What Topics Are Covered Under the 1Z0-1053-22 Certification?
The 1Z0-1053-22 exam covers the following topics-
Benefits Billing and Court Orders

Reporting on Benefits

Administering Benefits

Configuring Benefits
Details of the 1Z0-1053-22 Certification:
The 1Z0-1053-22 is a 55 questions long exam, and you must obtain a 70% mark to pass the exam.
Preparation Tips to Earn the 1Z0-1053-22 Certification:
Enroll Yourself for the 1Z0-1053-22 Training:
Whatever knowledge base you possess, getting practical knowledge is essential to implement in projects. The aspirant can join one of the following training-
Oracle Benefits Cloud 2022 Certified Implementation Professional

Oracle Global Human Resources Cloud Learning Subscription
Have Clear Idea about the 1Z0-1053-22 Syllabus Topics:
When we prepare for any exam, it becomes obvious to earn success in the exam. Therefore, make out a study plan to cover the 1Z0-1053-22 syllabus in a systematic manner. Once your study plan is created, you don't need to waste time deciding the syllabus topics. Do not forget that you are going to sit for a professional-level exam; therefore, grasping the topics from the core to score well in the exam. Oracle topics are not percentage driven, but once you go through the complete syllabus, you get to which areas need more of your time.
Set the Study Hours:
Devotion is the key to earning success in any field, and how could it go wrong for the 1Z0-1053-22 exam preparations? Therefore, set out the study hours and use them wisely. If you are focused on your daily study, a devotion of two to three hours could do wonders. An aspirant must always try to improve his preparation level, and a basic path to do so is to read and write down the essential topics.
Get the Real Exam Experience with the 1Z0-1053-22 Practice Test:
Self-assessment is the best way to get confident before taking the exam. Facing a multiple-choice exam could be tricky because the candidate needs to recall the whole syllabus in one go. Therefore, enroll yourself for the valuable 1Z0-1053-22 practice tests and gain the experience of taking the actual exam. The 1Z0-1053-22 candidate can get valuable insights into his preparation level through the guidance provided in the result section. It becomes your primary responsibility to follow the result section if you want to score well and transform your weaknesses into your strength.
What is Oracle Benefits Cloud?
Oracle Benefits Cloud is part of the Oracle Cloud HCM solution. It is a global, rules-based benefits application that allows organizations to manage and offer benefits programs to meet their objectives, missions, and strategic alignment to the organization.
Advantages of Oracle Benefits Cloud:
Offer Great Value to Each Employee:
Oracle Benefits is a flexible and extensible solution to meet your specific benefits program demands and recognizes that an organization's industry type, business objectives, location, employee demographics, and many other factors shape a benefits plan. The user can calculate the eligibility for programs, plans, and options as well as the calculation of costs.
Have Business Programs Suitable for Your Organization's Growth:
Oracle Benefits comes with a completely flexible design process that allows the creation of benefits programs. It can include multiple plans to meet the organization's benefits demands. Eligibility for plans and programs and benefits costs can be individually checked, depending on the configured rules, for each employee to offer a personalized experience to them.
Simple Employee Enrollment Flow:
Oracle Benefits Cloud allows a simplified and easy-to-use employee benefits landing page, and the enrollment flow drives the employee through the enrollment methods. The enrollment flow offers train stops to similar group plans and optional filters for the employee to use. Employees can go through the enrollment methods as many times as they like in the open enrollment period.
Bottom Line:
Oracle Benefits Cloud is a configurable and flexible global solution that allows organizations to adapt and evolve to the unique demands of their workforce and is an integral part of any total compensation package. Therefore, get the 1Z0-1053-22 certification and make your professional career with Oracle Benefits Cloud.