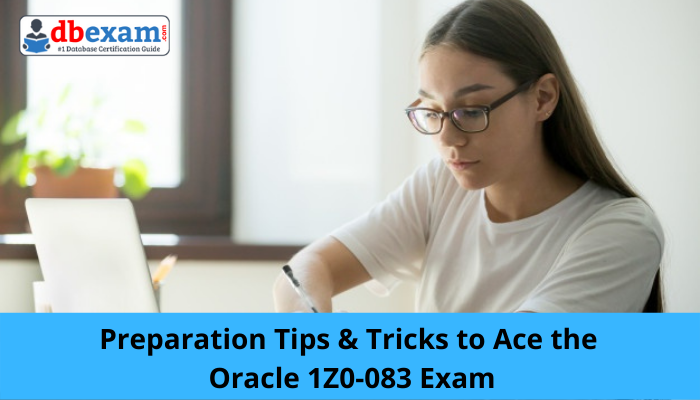 Get some beneficial tips and tricks and learn about the materials to pass the 1Z0-083 exam.
Details of the 1Z0-083 Certification Exam:
The 1Z0-083 is an 85 questions long exam with multiple-choice questions. A candidate needs to get a 57% mark to pass the exam.
Suppose a candidate earns the Oracle Database Administrator Certified Professional credential. In that case, he will demonstrate his knowledge of the full skill set needed to perform day to day administration of the Oracle Database.
What Skills Do You Earn Through the 1Z0-083 Certification?
Preparing for the 1Z0-083, Oracle Database Administration Certified Professional certification helps candidates gain the skills and knowledge to install, patch, and upgrade Oracle Database and Oracle Grid Infrastructure for a standalone server.
The aspirants learn to create and manage a backup and recovery method using Recovery Manager (RMAN),

Use RMAN for Database duplication and transportation,

Manage all aspects of Multitenant container databases,

and diagnose failures using RMAN, pluggable databases application containers including creation, cloning, security, transportation, and backup and recovery.
How to Prepare for the Exam?
Join Oracle Training for the 1Z0-083 Certification:
It is always helpful to join training for IT exam preparations. Training helps a candidate to learn from the experts and clear their subject-oriented doubts. Learn about the most advanced features and methods for achieving maximum performance, availability, and reliability using core database features and technologies. Learn how to leverage enhancements in multitenant architecture, manage security, use RMAN, understand general Database Administration functionality, implement big data, and more.
Discover the Syllabus and Focus on Completing:
Covering the syllabus topics is the need of the hour if you want to attempt a maximum number of questions. A candidate should make a routine and devote two to three hours to the 1Z0-083 exam preparation. Oracle exam syllabus is not percentage-based, so set your routine so that you keep maximum time for the topics with more sub-topics.
Prepare Notes:
Make some notes during the 1Z0-083 exam preparation. It is not a good thing if you rush to take the exam, take your time, and work on a few topics daily and make notes from them. The habit of writing practice would help to remember the topics for longer.
Use Different Study Materials:
There are multiple videos on the internet offering important sample questions, study methods, etc. A candidate should rely on the study materials to boost up their knowledge.
Keep Practicing:
Take the valuable assessment of your preparation level with 1Z0-083 practice tests. The aspirants should get valuable insights regarding their performance from practice exam results. 1Z0-083, practice tests are designed in a manner, that a candidate gets the experience of taking the actual exam. You might not score well during your initial attempts; better take these as tests as learning attempts and keep working hard for a better score in the future.
Why Should You Become A DBA?
There are several benefits added to your career if you earn the database administration certification. Your database administration certification could earn you a secure job. If we put the government jobs aside, the private jobs, which are affected heavily by economic fluctuations, is dangerous for offering very less future security. However, with database administration 1Z0-083 certification, a candidate can lay to rest all his fears.
Data is used huge way and no organization, however big or small can't ignore the usefulness of data in their operations. Therefore, every medium to large organization needs a candidate who can manage their stores of information. It is not an optimistic thought but a belief based on facts that database administration is a career that will stay around in the spotlight for at least a couple of decades or more.
What Could be the Possible Job Roles After the 1Z0-083 Certification?
A 1Z0-083, database administrator performs tests and implements computer databases.

The aspirant uses his knowledge of database management systems to take care of any changes to the database and implement security principles to ensure data integrity.

The Database administrator is the in-charge to approve and install new technology products such as databases and makes the perfect roadmap for integration of different databases so that they can work together properly.

The database administrator must also ensure that there is a hierarchical division of access so that an organization's sensitive information does not leak out to the executives.
Bottom Line:
Consider Database Administration as a career and pass the 1Z0-082 and 1Z0-083 certification exams for a lucrative career. The DBA is a rapidly growing field, thus earning the certification is going to benefit the candidate with career options.