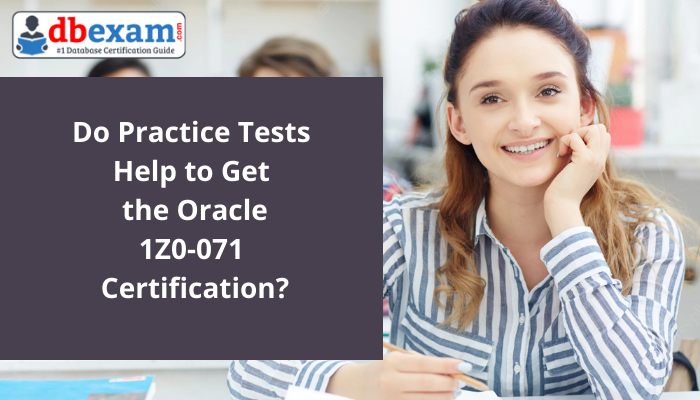 Make your certification journey easy with the Oracle 1Z0-071 exam. Find out some of the proven study tips, and make maximum use of the practice test to grab the certification smoothly and have a lucrative career.
Overview of the 1Z0-071 Certification:
Through the Oracle Database SQL Certified Associate, 1Z0-071 certification, you demonstrate the knowledge of fundamental SQL concepts helpful in undertaking any database project.
By acing the 1Z0-071 exam, a certified individual proves his fluency and solid knowledge regarding SQL language, data modeling, and using SQL to design and manipulate tables in an Oracle Database. Qualified candidates possess the knowledge of general computing concepts, command-line interfaces, and experience working on the command line.
What Knowledge Do You Prove through the 1Z0-071 Certification?
Passing the 1Z0-071 exam means you have a depth of knowledge of SQL and its use while working with the Oracle Database server. You also gain knowledge regarding inserting, querying, updating, and deleting SQL statements. You will also learn about Data Definition Language and Data Control Language, data modeling and normalization, and the optimizer tales and indexes.
Knowledge Needed to Take the Certification Exam:
You must have a Bachelor's degree or higher-level degree in computer science or information technology (IT) related field if you want to easily pass the Oracle 1Z0-071 exam.
Preparation Tips to Pass the 1Z0-071 Exam:
Grasping the Syllabus Is the Primary Task:
If you want to ace the Oracle 1Z0-071 exam, grasping the 1Z0-071 syllabus is your primary task. The 1Z0-071 exam is a multiple-choice exam, and you need to be extra careful to attempt any multiple-choice type exam. When it comes to multiple-choice exams, you need to remember the minute details. Therefore, make a habit of reading and writing, which helps boost your recalling capacity.
Stay Devoted with Your Study Hours:
To keep your preparation process organized, decide how you want to proceed with the syllabus topics at the beginning of your preparation. Devoting a fixed time for daily study would easily help you accomplish your daily study goals.
Learning SQL Coding Is Crucial:
If you earn some SQL coding knowledge, taking the 1Z0-071 exam will become easier. The habit of regular coding will help you to utilize the SQL(Structured Query Language) well when you develop or administer a database. Any change in the code changes the database functions, so keep exploring to face a new scope every time.
Join the Oracle Training:
If you want to obtain a good mark in the Oracle exam, you must study hard and gain theoretical knowledge. But, do not forget that earning practical knowledge is equally essential. Therefore, join the Oracle 1Z0-071 exam and learn from the experts.
Evaluate Yourself with 1Z0-071 Practice Test:
Preparation comes in step by step process. You need to study hard, complete the syllabus and last but not least, evaluate your preparation level. The best benefit of using practice tests is that you will get familiar with the actual exam-like questions and will be able to attend them within the time limit. Many candidates can't clear the 1Z0-171 exam, as they are unable to manage time during the actual exam. Solving the 1Z0-071 practice tests would offer you valuable insights into your strengths and weaknesses. You must take these insights seriously and work on your weaknesses to transform them into your strength.
Who Are SQL Developers?
SQL developers are the individuals who help large and small enterprises to manage their databases while they work on the safety and security of different systems. The SQL developers work in the areas like security setup, system integration, SQL development, and testing and need strong technical knowledge. Having the 1Z0-071 certification improves the candidate's knowledge base to deal with SQL.
Is It Worth Getting the Oracle 1Z0-071 Certification?
The answer is definitely, yes. You will learn new skills that will be useful to your work; moreover, you will earn a certificate from the well-known, reputable organization Oracle that validates that you have proved SQL knowledge and best practices.

However, a certification isn't essential to getting a job. When there is research on the jobs like business intelligence architects/developers and data warehousing specialists, it is found that these jobs do not require much of your SQL knowledge.

But, certifications still serve different purposes. First, the Oracle 1Z0-071 certification will differentiate you in a crowded market, particularly for an open job where multiple candidates are competing.

Earning the Oracle 1Z0-071 certification is valuable for those new to database work, assuring employers you have the necessary skills.

Depending on your negotiation power, you can often use your certification badge to leverage a salary raise from your current employer.

If you're interested in structured data and database work in general and have your eye on working for an organization that deals with a particular flavor of SQL, getting the Oracle 1Z0-071 certification is worth exploring. But, try to stay updated with your knowledge, as the SQL certification needs continuous upgradation of your skills.
Bottom Line:
SQL is a widely-used language, and getting a certification with the Oracle 1Z0-071 exam, proves your credibility. Therefore, grab the 1Z0-071 certification and open up the path for better career opportunities.