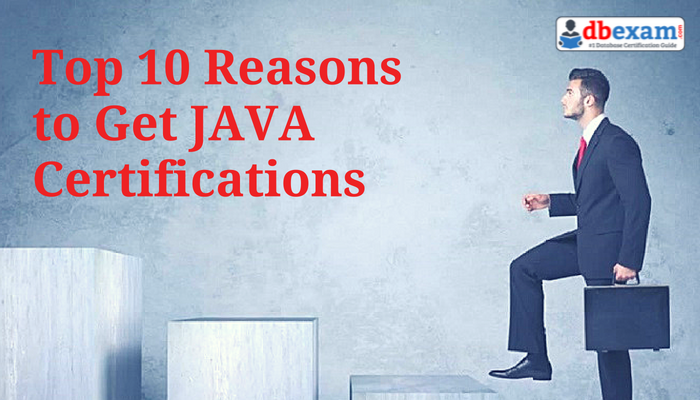 IT field is a booming field and has excellent prospects for everyone. It is clear that learning programming languages open up endless opportunities. Java is a mainstream programming language that is used to make programming and applications. Core Java is an object-oriented programming language, which has easy syntax and functions. Implemented in several platforms extending from embedded devices to mobile phones and industry servers and computers, its presence is felt everywhere. Here in this article, let me help you decide why you should learn Java programming over other languages.
Get Better Paying Job:
Frequently, people who have an ex-ordinary skill set, they can get higher pay in a working place. The certified person can earn more income than the non-certified peers. So if you have completed the OCPJP, gradually your pay will be raised at your workplace. No need to ask salary on your company, they will provide good salary once you become a certified working professional.

Develop Your Knowledge and Skill:
The Java programs not just aiding you to achieve the certification but can also create you as a good java developer to the IT world. Taking Java certification teach you new thoughts in Java world and you learn more knowledge in Java what the modern industry demanded from the Java experts.

Become Superior to Non-Certified Persons:
If you are inquiring for a new job in the IT field, a OCAJP certification comprehensively supports you to stand out from the unemployment masses. In a recent survey says Java certification as having tremendous high values in validating knowledge and proficiency. Most of the leading IT company recruiters also frequently search out those with Java certification.

Knowledge of Java Developers is in demand in Today Scenario:
In today IT market, providing a lot of career opportunities for the Java certified and experienced more professional. Java is the most challenging certification in IT world, but once you become the skilled personality in Java, you will be promoted by leading IT experts.

IT Industry Approved Certification is JAVA:
There have been numerous Java certifications set worldwide, so it's the wonder Java certification top the record of the majority acknowledged certification in the IT industry. So try to take current application approved certification of Java.

The Excellent Source to Raise Your Career Confidence:
You even know how talented you are, Certification is the unique source to display your talent to the present world, it speaks to you more than your knowledge of Java. If you desire to raise your confidence level in Java.

Powerful Development Tools:
Eclipse and Netbeans have played a gigantic role to make Java one of the best programming language. Coding in IDE is a treat, particularly on the off chance that you have coded in DOS Editor or Notepad. They help in code finishing as well as give intense investigating capacity, which is vital for advancement and testing. Integrated Development Environment made Java development much smoother, faster and fluent. Aside from IDE, Java platform also has several other tools like Maven and ANT for building Java applications, JConsole, decompilers, Visual VM for monitoring Heap usage, etc.

Great Collection of Source of Libraries:
Source libraries guarantees that Java ought to be utilized all around. Apache, Google, and other association have contributed part of incredible libraries, which makes Java improvement simple, speedier and financially savvy. There are structures like Spring, Struts, Maven, which guarantees that Java improvement takes after best practices of programming craftsmanship, advances utilization of configuration examples and helped Java developers to get there job done.

Excellent Community Support:
The community is the highest quality of Java programming language and platform. Java has loads of dynamic gatherings, Stackoverflow, open source associations and a few Java client gathering to help everything. There is a group to help beginners, advanced and even expert Java programmers. Java really advances taking and offering back to group propensity.

The Most Chosen and Distinguished Certifications:
According to Standard figures from SUN Oracle, over 500,000 Java certifications have been granted internationally with about 30,000 Java Developers gaining advanced Java certification annually.
Additionally, the Java Certification path designed by SUN Oracle aligns real-world functions and roles with the level of certification – Oracle certified Associate, Developer, Programmer, or Master – so the participants choose which arena to specialize in depending on their needs and interests.