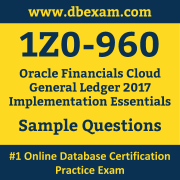 The Oracle 1Z0-960 Sample Question Set is designed to help you prepare for the Oracle Financials Cloud General Ledger 2017 Implementation Essentials (1Z0-960) certification exam. To become familiar with actual Oracle Certification exam environment, we suggest you to try Sample Oracle 1Z0-960 Certification Practice Exam.
This sample Oracle 1Z0-960 certification practice exam is designed for evaluation purposes only. If you really want to test your knowledge to identify your weak areas and familiarize with actual exam format, we suggest you to practice with Premium Oracle 1Z0-960 Certification Practice Exam for Oracle Financials Cloud General Ledger 2017 Implementation Essentials (1Z0-960) certification. Our team of Oracle Financials Cloud experts have designed Questions-Answers for this premium practice exam by collecting inputs from recently certified candidates. Hence, We strongly recommend you to use Premium Oracle 1Z0-960 Certification Practice Exam to clear your actual Oracle 1Z0-960 Certification Exam with great score.
1Z0-960 Sample Questions:
01. Your customer uses Financials Cloud, Projects, Inventory and Procurement. Which two statements are true regarding intercompany accounting tor these products?
a) Each product has its own Intercompany Accounting feature that needs to be set up separately.
b) Intercompany Balancing Rules are defined centrally and applied across Financials, Portfolio Project Management and Supply Chain Management products.
c) Within Financials Cloud, Intercompany Balancing Rules are used to balance both cross-ledger intercompany transactions and single ledger intercompany journals.
d) They need to license a separate stand-alone Intercompany product that acts as the Intercompany Accounting Hub.
02. How do you hide accounts with no balances showing #Missing in Smart view?
a) Select the Data/Missing check box in the Data Options tab.
b) Use Excel functions to hide rows with #Missing assigned
c) Choose the Suppress Zeros option under Data options.
d) This indicates a database connection issue. Try to reconnect to Fusion Applications.
03. You need to create a month-end re-porting package for an upcoming Audit Committee meeting. You have 10 financial reports that you will need to share with executives and auditors. In which three ways do you accomplish this?
a) Using Workspace, assemble multiple reports into a book.
b) Use a Report Batch to run reports at a specific time to create set of snapshot reports based on accounting information at that specific point in time.
c) Users can drill down on snapshot reports for future analysis.
d) The report contained in the book can be printed or viewed individually or as an entire book that includes a table of contents.
e) Snapshot reports can only be viewed online.
04. The budget managers specify the budget accounts they want to monitor and decide on percentage threshold of funds availability. Where must you define the details while analyzing budget balances in the Budget Account Monitor page?
a) Budget Group
b) Application Development framework Desktop Integral ion (ADFdi)
c) Account Group
d) Budget Controller
e) Budget Account Group
05. Your user forgot the password. How do you resolve this?
a) Use the Manage Users page to update the user's information and change the password.
b) Use Oracle Identity Management (OIM) to reset the user's password.
c) Log in to the user's machine as an Administrator and change the password from the login password.
d) Use Access Policy Manager (APM) to reset the user's password.
e) Create a new user ID and password for the user.
06. Your Financial Analyst needs to interactively analyze General Ledger balances with the ability down to originating transactions. Which three features facilitate this?
a) Account Inspector
b) Smart View
c) Account Monitor
d) Online Transactional Business Intelligence
e) Financial Reports published to Excel
07. Identify three functions of Functional Setup Manager.
a) Provide a central place to access and perform all of the setup steps across Fusion application product
b) Automatically generate lists of setup tasks in the correct sequence with dependencies highlighted.
c) Automatically mark the status of tasks as Completed after they have been completed.
d) Assign setup tasks to individuals with due dates where users must manually update their completion status.
e) Centrally manage the close processes across subledgers and ledgers.
08. You want to prevent intercompany transactions from being entered during the last day of the close. What should you do?
a) Close all subledger periods.
b) Close Intercompany periods in Fusion Intercompany.
c) Freeze the Intercompany Journal source in General Ledger.
d) Close the General Ledger period in the Manage Accounting Periods page.
09. Which repot show you differences between your subledger balances and General Ledger balances?
a) Payables Trial Balance, Receivables Trial Balance, and General Ledger Trial Balance reports
b) Payables and Receivables Aging Reports with the General Ledger Trial Balance report
c) Payables to Ledger Reconciliation Report and the Receivables to Ledger Reconciliation Report
d) General Ledger Financial Statements and the Accounts Payable and Accounts Receivables Invoice Registers
10. You are defining an income statement report. You want to allow viewers of the report to be able to drill down from report balances to the underlying transactions. What do you need to enable?
a) Drill Through in Grid Properties
b) Report Functions
c) Nothing. All report balances are drillable in all FR Studio reports.
d) Allow Expansion
Solutions:
QUESTION: 01

Answer: c, d

QUESTION: 02

Answer: a

QUESTION: 03

Answer: a, b, d

QUESTION: 04

Answer: c

QUESTION: 05

Answer: b

QUESTION: 06

Answer: a, b, c

QUESTION: 07

Answer: a, b, d

QUESTION: 08

Answer: b

QUESTION: 09

Answer: c

QUESTION: 10

Answer: a